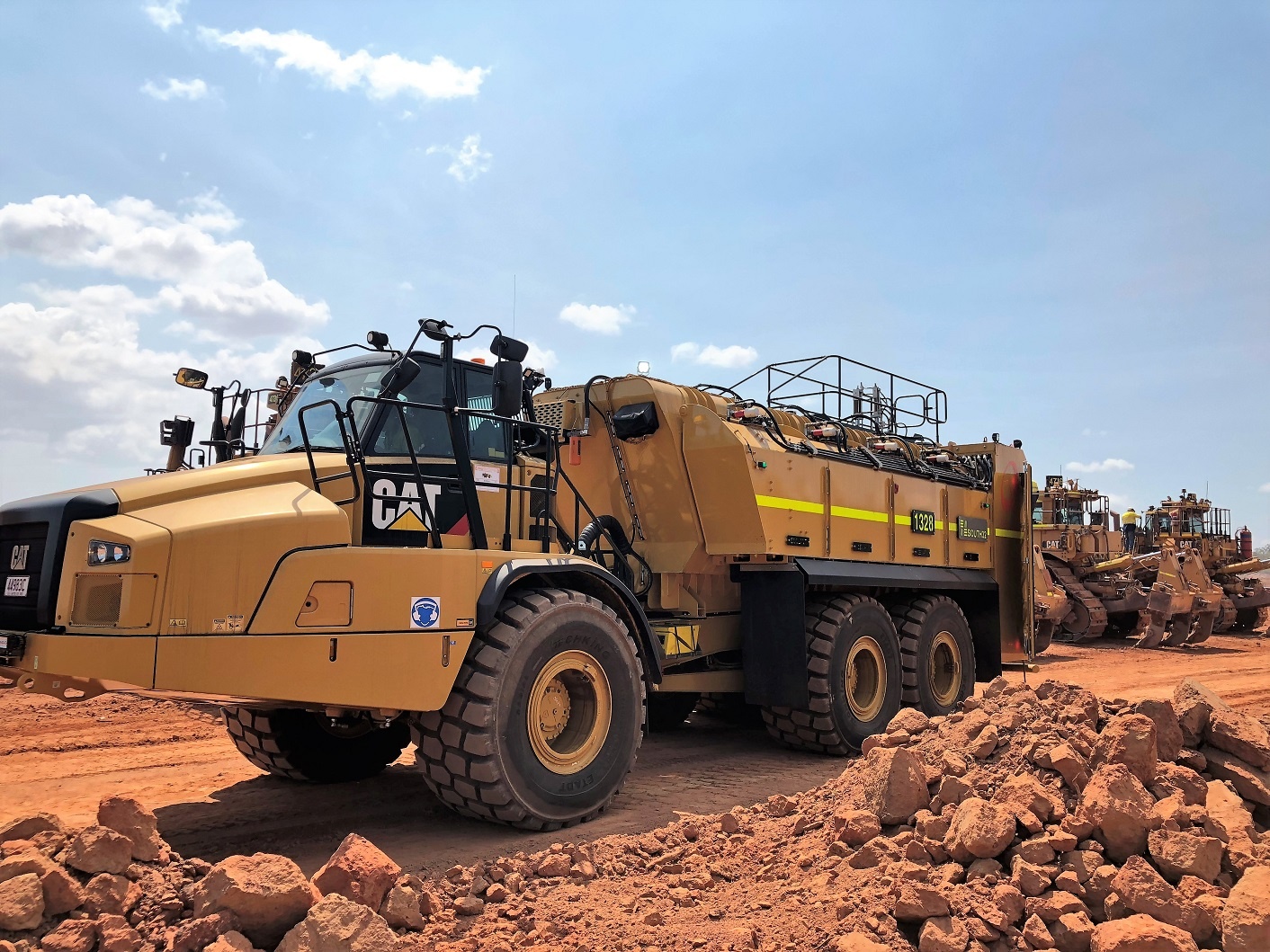 QMW build South32 Groote Eylandt CAT 745 Lube Truck!
QMW Industries was engaged by South 32 Gemco; a long-term customer to fulfill their site requirements with design, manufacture and installation of a hydraulically driven lubrication truck delivering a total of 12 specified products through (15 of) hydraulic retractable hose reels as well as South 32 site specific (FRC) Fatal Risk Control requirements.
Due to the rough, muddy and angulating terrain, a 6-wheel drive articulated dump truck; the CAT 745C was the preferred vehicle of choice to suit these requirements.
QMW utilized the load sense hydraulics on the 745C hoist circuit to provide hydraulic pressure and flow to the hydraulic motor/pump combinations. Product delivery is electric over hydraulic controlled via an IFM controller and PVG control valve. Software was developed on the IFM controller to include activation of Hydraulic Power, Flow meters, Delivery meter & reset, Product Pump On/Off function, reel retraction and levels indicators via pressure transducers, all integrated through the programable logic controller (PLC).
A remote control was integrated into the system to control the ''reel retraction'' for each of the 15 hydraulic rewind hose reels which allows the service person to select which reel to retract on the IFM control screen, and actuate the remote control, walking in the chosen reel and guide with ease and efficiency. This can be done per reel whilst still pumping other products = faster servicing & re-fueling.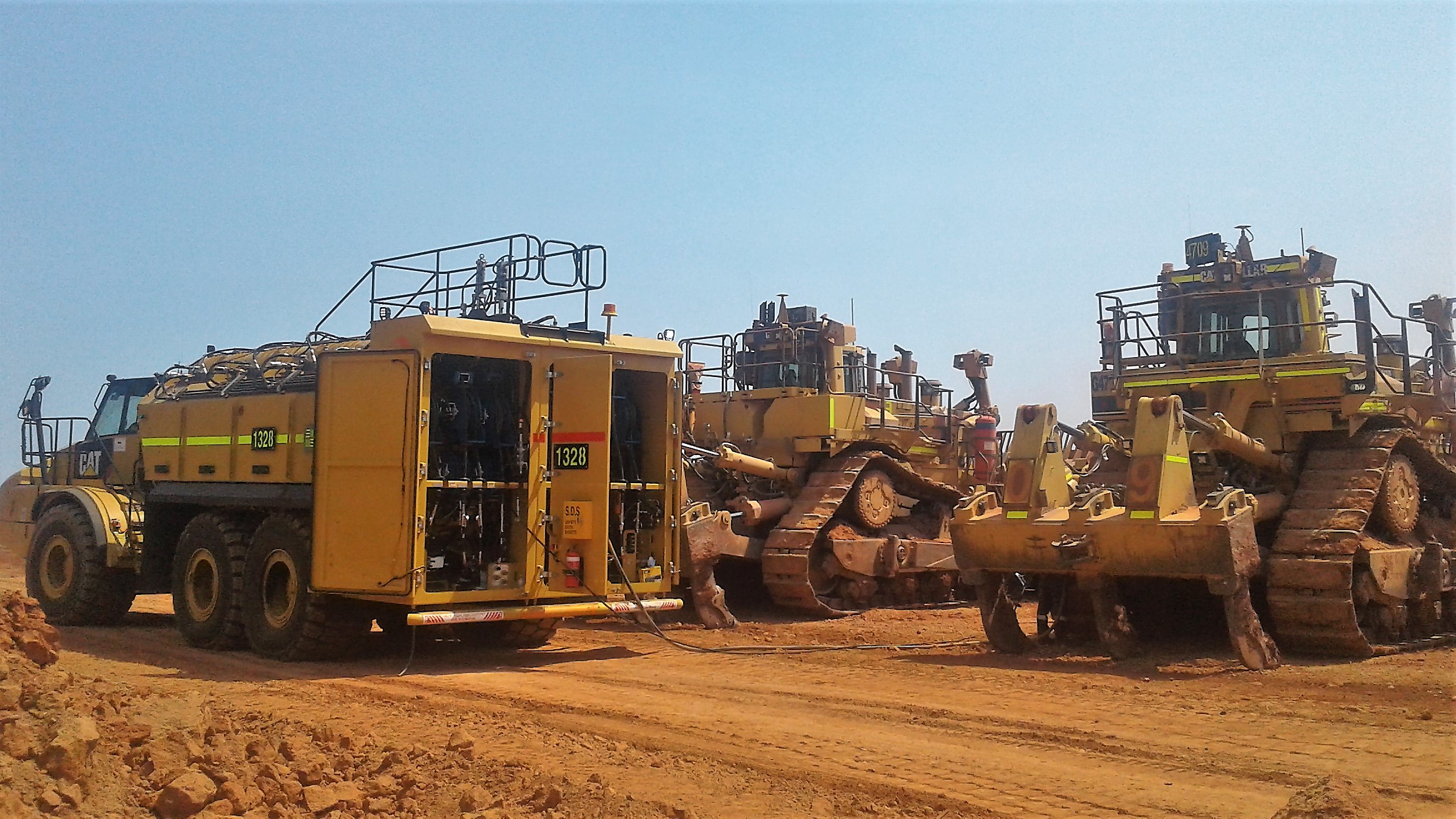 As opposed to rigid mining trucks or on-highway trucks traditionally used on this site. One of the main focus' from the start of this project was the fuel consumption on site, and capacity of the new service truck, fluid delivery was the other main focus as with usability, simplicity and reliability being key factors In this engineering feat.
QMW were able to engineer, manufacture and install a service module for the CAT 745C ADT that could meet of the requirements of Gemco, and in the short time frame required of less than 4 months.
22,000L of Diesel – High Volume and Low Volume Diesel delivery was provided to client requirements using a fixed displacement hydraulic motor coupled to the Ebsray V25 Diesel pump and metered through the LC7 meter.
A series of before and after filters for the Diesel module were installed to ensure clean diesel supply.
Remote Controlled Grease – Pressure Relief System
Remote controlled operation of the High-Volume grease via a HV Lincoln Powermaster grease pump was included, complete with pressure relief upon conclusion of pumping to allow ease & safe un-coupling of the fitting from the machine. High Pressure grease is delivered via a separate HP pump with a swivel gun & safety guard. A 90CFM hydraulically driven screw compressor was installed to run the pneumatically operated double diaphragm waste oil pump which has a reversible 4-way valve for pumping and suction. A hydraulic rewind hose reel for Air supply at 120PSI was included.Fast Fill (USA) shut off valves were fitted to each of the product tanks together with Fast Fill receivers in the cabinets to fill each tank. Cobra (RSA) Hydraulic Rewind Hose reels are fitted with isolation ball valves, and high quality Piusi fluid transfer guns (Italian) fitted with Fast Fill Couplers (USA). The Oil and Coolant tanks utilize Quality (RSA) GPM Hydraulic Gear Motor/Pump Combinations and brass bypass valves.
South32 will see a massive gain in productivity with this reliable unit.
The super structure is a modularized design that can be 'containerized' to be sent anywhere world-wide, cost effectively for freight, and installed to trucks remotely around the world. The main tank and wing tanks are of quality Australian high tensile steel construction with separate tanks to eliminate risk of cross contamination. Welding on each tank is Non-Destructively tested via Magnetic Particle Inspection to Australian Welding Standards AS1554.1SP, Die Penetrant Tested for Stainless Steel Tanks, and Hydro-statically tested.
Water & Coolant tanks are constructed from Grade 316 Stainless Steel to eliminate corrosion
Fixed hydraulic tubing is Grade 316 Stainless Steel and flexible hose and fittings is of high quality Ryco brand with spiral wrap, protective sleeving, stainless steel cable tie and heat shrink where required.
A Dynaset hydraulic driven pressure washer and pressure Lance was installed to rid any muck and grime on any piece of plant for a wash down.
The truck was fitted with Grade 316 stainless steel mudguards to protect the underside, and outsides of the tanks, along with 4'' stainless steel sockets and bungs to cover the drain points on each product compartment.
No rust, and ability to flush out tanks if required.
QMW can custom manufacture a quality service unit on any size truck, call QMW today on +617 3275 2544 to discuss your requirements or email [email protected]